Competition to re-imagine Australia's first street
The Urban Land Institute has launched an ideas competition to re-imagine Sydney's main street, George Street, which some believe to be Australia's first.
The inaugural bi-annual competition invites young designers, aged under 35, to propose urban interventions of a physical, operational or digital nature with a focus on social, cultural and ecological benefits.
Under the theme of "transforming spaces into greater urban spaces," the competition is seeking urban ideas that:
Add value (economic, social, cultural and/or ecological) to the public spaces surrounding the new light rail.
Articulate a vision for George St.
Create a great urban place or series of places.
Add to the transformation from space to place.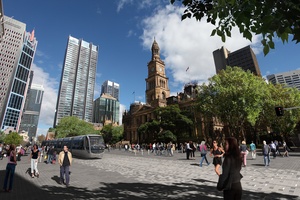 The City of Sydney and the NSW Government have a current proposal to transform George Street with a $2.1 billion light rail line already underway. The City's draft George Street 2020: Public Domain Activation Strategy, prepared in collaboration with Gehl Architects, proposes to create a pedestrian boulevard along George Street. A final strategy is yet to be release.
Entries will be judged on the strength of their ideas, clarity of vision, potential impact, and integration with the proposed light rail.
The competition will run in two stages. The stage one winner will receive a $2,500 cash prize and mentorship for second stage of the competition – the ideas development stage. A minimum of three teams will be selected to proceed to stage two, the winner of which will receive a $5,000 cash prize and a trip to the 2016 Urban Land Institute conference in the USA worth up to $5,000.
Stage one of the competition closes 17 September 2015 and a winner will be announced in early October 2015, during the Sydney Architecture Festival. Stage two commences 12 October and closes 13 November 2015. The final winner will be announced in late November 2015.